When it comes to putting together your outdoor kitchen for your lake house, the possibilities are endless. The only thing that can stop you is your imagination and your budget. We thought it may be a good idea to start this outdoor kitchen buyers guide with a video that shares with you some of the most popular outdoor kitchen designs today.
What is the best plan to start your outdoor Kitchen?
Your outdoor kitchen can be anything from a little Weber in the corner of the deck to a fully functional grilling, dining, and entertainment space on a gorgeously landscaped patio. The finest outdoor kitchens feature almost all of the capabilities of an indoor kitchen. There are outdoor versions of cooking and refrigeration appliances, along with sinks and storage pieces, all of which are designed to withstand the elements.
Why are outdoor kitchens popular?
When you really stop and think about it, you could argue that at a lake home, and outdoor kitchen may make more since than an indoor one. One of the reasons you have a home on the lake is to enjoy the outdoors as much as possible, isn't it? Outdoor kitchens in general are growing in popularity especially for homes on the lake and in warmer climates.

Outdoor kitchens provide extra living space for your family and today almost every indoor appliance option is available for outdoor kitchens.
What does an outdoor kitchen cost?
The better question may be, what will not having an outdoor kitchen cost you? At least as it refers to family time and memories? The truth is you can spend as little or as much as you want. Some people consider the old charcoal grill in the corner they purchased at a yard sale their outdoor kitchen. However according to research from the National Kitchen and Bath Association, outdoor kitchens typically cost about $13,000, and measure between 100 and 400 sq. ft. to include areas for both meal preparation and sitting. Once you get started building out your outdoor kitchen area it can be very hard to stop. So set a budget before your start, but we suggest that if you live on the lake, and outdoor kitchen is a great investment.
What should my outdoor kitchen include?
Design is an important consideration that you should have planned out after you decide on the budget for your appliances. We have done this a couple of times, and the first thing we did was order the appliances we wanted and then worked with a local handy man to create an outdoor kitchen design based upon the appliances we invested in. I realize some of you may have the skills to do the work yourself and if so that puts you way ahead of the game. The design of your outdoor kitchen depends largely on your personal taste and where you live. If you reside in the sunny area you might not need much in the way of weatherproofing. However if you live in the Northeast or Northwest, weather is a major consideration. So does your kitchen need to be covered?
A local handy man can give you insights and advice on local regulations before you start building your outdoor kitchen. For example, you will probably have to obtain permits for plumbing and electrical work. There may be other rules you might not have thought about. "Some municipalities require a cover for an outdoor sink,". Of course every local municipalities rules and regulations will be different.
Which appliances do I need to buy?
The possibilities are endless, it really depends on your vision and budget, but here are some ideas to get the process started.
Grill Options
The grill is the centerpiece of any outdoor kitchen. You can choose a built-in or freestanding grill. Pricing for freestanding grills ranges between $1,500 and $11,000, depending on accessories, construction, and size. Prices for built-in grills and additional appliances are higher—they can run between $1,500 and $16,000.The grill is the most important part of your outdoor kitchen, so pick one you will be happy with for a long time.
The cost of a grill comes down to the quality of the steel. A Viking grill may look the same as one you pick up at Walmart, but the steel quality is what makes the difference. The grade represents the amount of nickel and chromium used to make the grill. More nickel in the composition means the metal is less likely to be affected by corrosive elements, like weather (rain, snow, salt), and acidic ingredients, like barbeque sauce. Gauge is the standard unit of measure; the lower the number, the thicker the steel and wire. That's another way of saying that you get what you pay for.
Since the grill is the most important part of your outdoor kitchen, do your research before you buy. Make sure you compare:
• Grilling surface size: When you're planning to cook for a crowd, more space is better.
• BTU output: Hotter burners give you more cooking power.
• Automatic ignition: You need automatic ignition so you can just turn on the gas and generate a spark.
• Additional warming racks: These racks provide a place to move foods when they're done cooking and they're a convenient way to heat hamburger and hot dog buns.
• Rotisserie: Turning meat on a spit gives it a good char and makes it more succulent.
• Storage for grilling tools: This can keep your tools close to where you need them and protect them from the elements.
• Under-hood lighting: It helps to see what you're doing when you're cooking after dark.
• Side burners: These are useful for simmering a sauce or boiling a pot of water for lobsters.ADVERTISEMENT
Free-standing grills
A free-standing grill is an easy way to jump into creating an outdoor kitchen. If you want to start with a free-standing grill, here are a couple to consider:
MCP Island Grills Modular 3 Piece Island Electric and Propane or Natural Gas BBQ Outdoor Stainless Steel Grill Kitchen, with Double Wine Refrigerator, Sink, Rotisserie, Black Marble Top and FREE Protective Canvas Cover
Weber Summit S-470 4-Burner Liquid Propane Grill, Stainless Steel 580-Square Inch
Very popular grill for summer cooking. High BTU rating. Available in Liquid Propane and Natural Gas Models.
Features:
580-square-inch 48,800-BTU gas grill with stainless-steel cooking grates and Flavorizer bars ; 9 millimeter diameter stainless steel cooking grates
Front-mounted controls; 4 stainless-steel burners; Snap-Jet individual burner ignition system and serves 8-10 people
Side burner, Sear Station burner, smoker burner, and rear-mounted infrared rotisserie burner
Enclosed cart; built-in thermometer; requires a 20-pound LP tank (sold separately); LED fuel gauge – LP models only
Dimensions – Lid Open (inches)- 57.1 H x 66 W x 30 D.Dimensions – Lid Closed (inches)- 50.5 H x 66 W x 26.5 D
3D interactive assembly instructions for this product are available through the free BILT app.
Built-in grills
A built-in grill is like a mini-kitchen and provides the home chef with a more spacious, better-looking outdoor cooking and meal prep area. Here are a couple of built-in models to consider: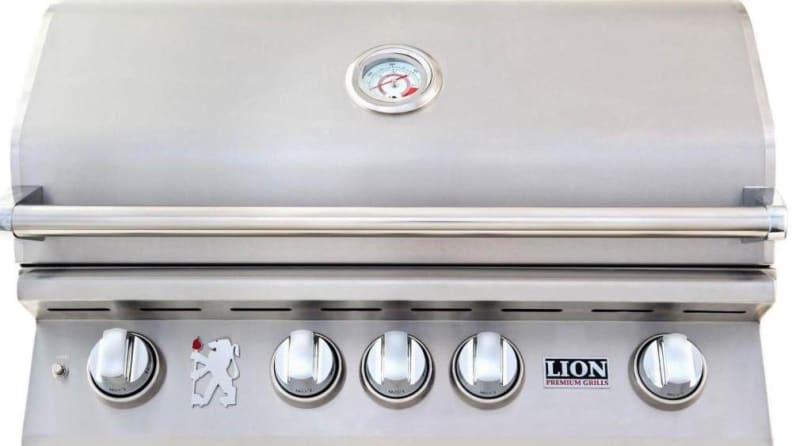 This stainless steel grill has a generous 830 square inches of cooking surface and solid construction. A customer favorite, the Lion L75625 rocks four burners with a total of 75,000 BTUs, an infra-red rotisserie back burner, and a warming rack.
Bull Outdoor Products BBQ 57569 Brahma 90,000 BTU Grill Head, Natural Gas
90, 000 BTU's of amazing cooking power. Fast to warm up and easily seasr your meat
5 Stainless Steel Bar Burners for cooking all your food at the same time
304 stainless Steel construction,
Approx 1025 sq. inches of surface for cooking (include warming rack)
Piezo igniters
Rotisserie kit
Cut out size required is 38 1/2″W x 21″D x 9 1/2″H
Should I get an outdoor pizza oven?
Since it's America's favorite food, it doen't get much better than being able to bake and serve pizza outside. For that, you'll need a pizza oven. Prices start at around $1,500. Pizza ovens can be brick, but that requires construction and masonry. A gas pizza oven has many advantages and the major one is time—propane is a consistent heat source so it will cook your homemade pizza's quickly.
These outdoor pizza ovens could make your pizzas the thing your guest will remember the most about their visit, not to mention the memories your family will have.
Ooni Koda 16 Gas Pizza Oven
This gas Pizza Oven will reaches temperatures to 950°F. This means it is ready to cook within 15 mins and can cook pizzas in 60 secs! Better still, as it is gas, no need to worry about wood for that authentic pizza!
This is the best pizza oven for around the Lake and your holiday house. It is also portable!
Designed for great pizza!
Cooked in 60 seconds. Temperatures can reach 950°F . Warmed up and ready to cook in 15 minutes
Ideal for authentic stone baked pizza
Easy to operate and setup
Instant gas ignition

Very efficient with heat retention design
ilFornino Professional Series Wood Fired Pizza Oven – Thicker Gauge Stainless Steel- One-Flat-Cooking-Surface- Double Insulation
ilFornino Professional Series is a step up from the other models
430 Stainless is a thicker gauge stainless steel
High-density insulation means much better heat retention
Excellent cooking surface area of ~ 1000 square inches..
Assembled in New York. Ready to cook in ~20 mins.
Does my outdoor kitchen need an outdoor refrigerator?
There's probably nothing more important is to chill meats, cheeses, and vegetables at safe temperatures before you start the grill.
Outdoor refrigerators are becoming more accessible. You can buy an under-counter or standalone model. Most outdoor refrigerators
have water-tight drawers to keep precipitation out. Here are the two most popular refrigerators for outdoor kitchens.
Here are a couple of refrigerators you can purchase for your outdoor kitchen:
ICEJUNGLE 24" Built-in/Freestanding Outdoor Dual Drawer Fridge Refrigerator with Digital Display
This Icejungle 24-inch utdoor Refrigerator began its life as a commercial product, which means it is built to last. It's fully stainless and comes with 2 handy drawers Capacity is 5.122 cu. ft., spacious enough for 144 cans of soda or beer. Features include:
Handy digital touch display
Accurate temperate control
Double drawers with dividers
Capacity is 23.4″ x 23.03" x 32.28″(w x d x h).
Can store 140 standard 12 oz. cans of drink
Light turns on automatically upon opening.
Bull Outdoor Products Stainless Steel Front Panel Refrigerator
The popular 4.4 cu. ft of spaced refrigerator is perfect for outdoor living. Ample space to keep your drinks cold and the stylish stainless steel door matches any decor. Features include:
Stainless steel exterior door panel
Door is reverisble- left or right swing
Precise temperature control
4. 4 cu. ft. of space
304 Stainless Steel Door
4.4 cu ft Capacity
ETL Certified
Dimension are 20 1/2″W X 33″H X 20 3/4″D
Weight is ~ 51.2-pound
BEST OUTDOOR KITCHEN STORAGE
Your outdoor kitchen needs room to hold all your outdoor kitchen gear, so you may eventually want to add an island to get space for tools, skewers, propane tanks, grilling racks, plates, cups, napkins, and condiments. Ideally, you want to have everything close at hand, so you are not constantly running back inside.
If your budget will allow it, you can purchase island packages like these for your outdoor kitchen:
NewAge Products Outdoor Kitchen Stainless Steel Classic 2 Piece Cabinet
The perfect storage solution for your outdoor Kitchen. This unit can be joined with other NewAge storage systems for even larger outdoor kitchens. This unit is made to go under a benchtop.
304 Stainless Steel frames for added durability and strength
Brushed Stainless Steel doors and beveled handles made of aluminum
Soft-close doors and gentle close drawers
Height-adjustable footings for uneven surfaces
Install your own style countertop
Weather-resistant cabinets
10 year limited
Dimensions: 64 in. W x 24 in. D x 34. 25 in. H
Refrigerator and Door and Drawer Combo and Drop-in Sink with and 5 in 1 BBQ Tool Set Best of Backyard Package Deal
Lion L90000 40″ Liquid Propane Grill features 5 cast stainless steel burners (90,000 total BTUs). Made with 304-16 gauge commercial grade stainless steel and 1030 sq. in. of cooking surface.
Door Drawer Combo w/ Towel Rack is made from all dual lined 16 gauge 304 brushed stainless steel.
Refrigerator and Drop-In Sink are ready made for your outdoor kitchen bar center.
Gourmet package includes smoker box, grill head canvas cover, rotisserie kit, griddle and griddle remover.
BBQ 5 in 1 Tool Set features a 17″ Spatula, 16″ BBQ fork, Basting Brush, Cork Screw, and Rosewood Handle.
What about the kitchen sink?
Adding a sink to the mix can be a wonderful addition to your outdoor kitchen. It allows you to rinse glasses and platters, fill a pot for a side burner or a multitude of normal kitchen task.
Outdoor sinks start in the $200 range and go up from there. For closer to $1,500, you can purchase a fully-outfitted beverage center that includes a sink, faucet, insulated ice compartment, towel rack, and additional bottle bins. But you may want to use your outdoor kitchen for a while before you decide that's what you need. However if budget is not an issue, then I would go for the whole sha-bang.
If you plan to hook up a sink and faucet, you have to figure out how to get water to it. You can run a supply line from the house (the most expensive option) or connect to an existing outdoor water source through a hose (the easiest).
If you have an irrigation system the best way is to have a plumber connect your sink to your underground sprinkler system. This way when the irrigation system is turned off during the winter it will also turn off your sink.
Here's a great moderately-priced sink option for your outdoor kitchen:
VCCUCINE Drop in Bar Sink, 15 x 15 Inch Topmount Outdoor Single Bowl, Brushed Nickel with Accessories
Attractive and functional outdoor sink for your outdoor kitchen. 15 x 15 inch is the perfect size for most outdoors kitchens.
Exterior Dimensions are 15″ Length x 15″ Width x 8″ Height and Interior dimensions are 13″ Length X 11″ Width X 8″ Height.
Constructed from premium SUS304 grade stainless steel with a brushed nickel finish
Sound Insulation and Anti-condensation features
Accessories include sink drain assembly, dish drying grid and standard 3-1/2″ drain opening
Easy to clean and Installation is straight forward
Can I personalize my outdoor kitchen?
One of the greatest joys of owning an outdoor kitchen is the freedom to entertain on the patio while avoiding the heat of the indoor kitchen. With all these appliance and design choices, you can customize to make your outdoor kitchen uniquely yours, from the design phase to the point where you can use it every day. We've given you a lot to digest here, so the only question left to ask is, "What's for dinner?"

Sincerely, we hope this has help you get an idea of the possibilities that available today when it comes to out door kitchens. The type of outdoor kitchen you want at your lake house, or ideas of how you can expand your current out door kitchen.